Live, Local, Experiential Events to Elevate Personal, Professional and Community Wellbeing
Lead with Love is dedicated to providing our community (as far as we can reach!) with events that help cultivate more wellbeing and love in your life.
Lead with Love Be The Change Summit 2020
A Transformative Community Experience by Lead With Love + The Wheeler Opera House
Thursday, September 17th - Saturday, September 19th

Aspen Valley Conscious Capitalism
Lead with Love Wild Yoga at ACES
Tuesday's @ 5:15
June 18- September 10
Join Lead With Love instructors on this weekly outdoor yoga class along the edge of Hallam Lake. Drawing on the wild roots of yoga, this all-levels class blends philosophy, asana (posture) practice, and contemplative exploration of ACES' magical nature preserve into a playful and holistic experience. Classes are donation-based and support our Environmental Education programs and rewarding for both, those new to yoga as well as accomplished practitioners. Don't miss this unique opportunity to visit and experience the Hallam Lake nature preserve during evening hours throughout the summer.

$10 at the door.
Mindful Movement and Music: A Collaboration with Lead with Love
Thursday, August 15, 2019 @ 5p
Thursday, August 15, 2019, at 5 pm
Discover the space where classical music meets mindfulness through the physical, mental, and spiritual practice of yoga. This two-hour workshop will feature a seamlessly integrated yoga experience– led by Gina Murdock and Nicole Lindstrom of Lead with Love– accompanied by carefully-curated music performances from top AMFS musicians. Join us for this unforgettable experience and learn about the training, process, and flow involved in each of these time-honored traditions. Sessions suitable for beginners, as well as intermediate and advanced practitioners.
*Exclusive for Aspen Music School Salon members only.
What is Conscious Capitalism? Tyler Moebius + Lead with Love
Join us for an info night on Conscious Capitalism with Tyler Moebius.

"We believe that business is good because it creates value, it is ethical because it is based on voluntary exchange, it is noble because it can elevate our existence and it is heroic because it lifts people out of poverty and creates prosperity. Free enterprise capitalism is the most powerful system for social cooperation and human progress ever conceived. It is one of the most compelling ideas we humans have ever had. But we can aspire to even more."
~ From the Conscious Capitalist Credo

Tyler is a 5 time entrepreneur and winner of the prestigious Ernst & Young Entrepreneur of the Year Award. His last start-up grew to a 700 person company with 28 offices in 12 countries.
SUNDAY APRIL 7 @ 4P - 7P
O2 STUDIO : 408 S MILL ST ASPEN, CO
The Complete Practice with Evan Soroka
4:00p - 5:30p

The Complete Practice - is a full yoga experience; including asana, pranayama and meditation. This alchemy of body, mind & spirit renders you complete.
$20 for workshop attendees // $28 regular drop-in

I CHOOSE LOVE :: Shift From Fear To Love
5:40p - 7:00p
A guided exploration into the barriers to love, how to overcome them and discover a true sense of liberation, regardless of outside circumstances.
Minimum suggested donation of $25
* This is a 2 part offering. You can attend one or both.
Wild & Scenic Film Festival
Lead with Love is proud to support the fifth annual Wild & Scenic Film Festival! This special evening, presented by ACES and Patagonia Snowmass, will showcase internationally acclaimed short films that both inform and inspire attendees to take action. Proceeds from the event will benefit ACES' Tomorrow's Voices program, which provides civics and environmental leadership education to regional high school students. The mission of Tomorrow's Voices is to cultivate responsible citizenship and ethical leadership in the youth of the Roaring Fork Valley.
Empower Love : 3 Keys to Loving Fearlessly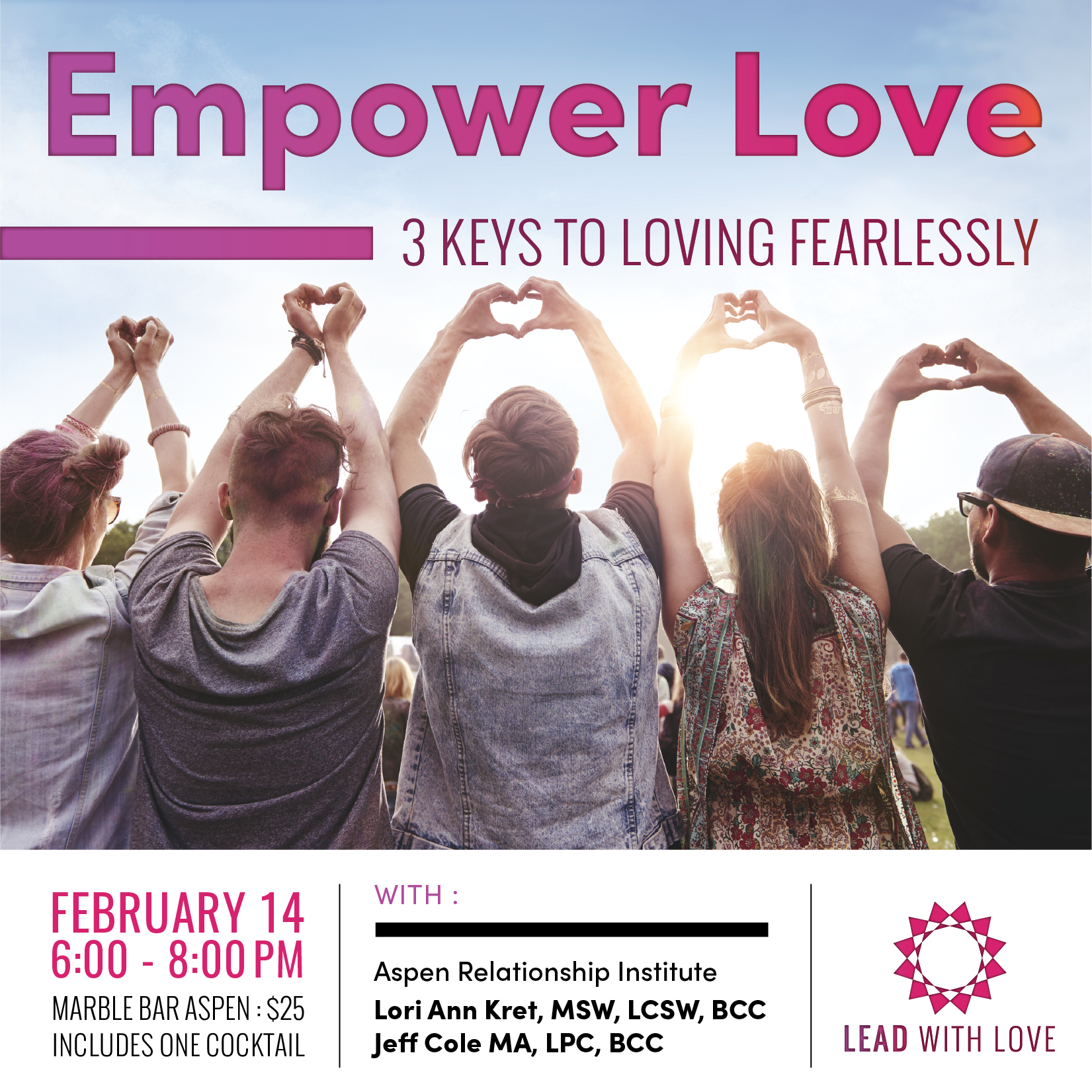 Thursday, February 14th @ 6p
Whether you're single or in a relationship, make 2019 your best relationship year yet! During our time together, you will learn the 3 keys to loving fearlessly. Bring your partner, your friends or come by yourself to this playful, engaging and inspiring workshop with Lori Kret and Jeff Cole of Aspen Relationship Institute.