The Head and Heart
A Digital Detox Day Retreat
What happens when your head meets your heart?
Learn how consciously connecting with your heart enhances your ability to make positive impact decisions and become a heart centered leader.
ACES Catto Center at Toklat, Aspen
Leadership Workshops

Coaching Q+A

Stretching + Meditation

Forest Bathing

Farm Lunch

Early Bird Tickets Available until August 1st!
*all times approximate & subject to change
Introductions + Intentions
Movement + Meditation with Gina Murdock
Farm lunch from Rock Bottom Ranch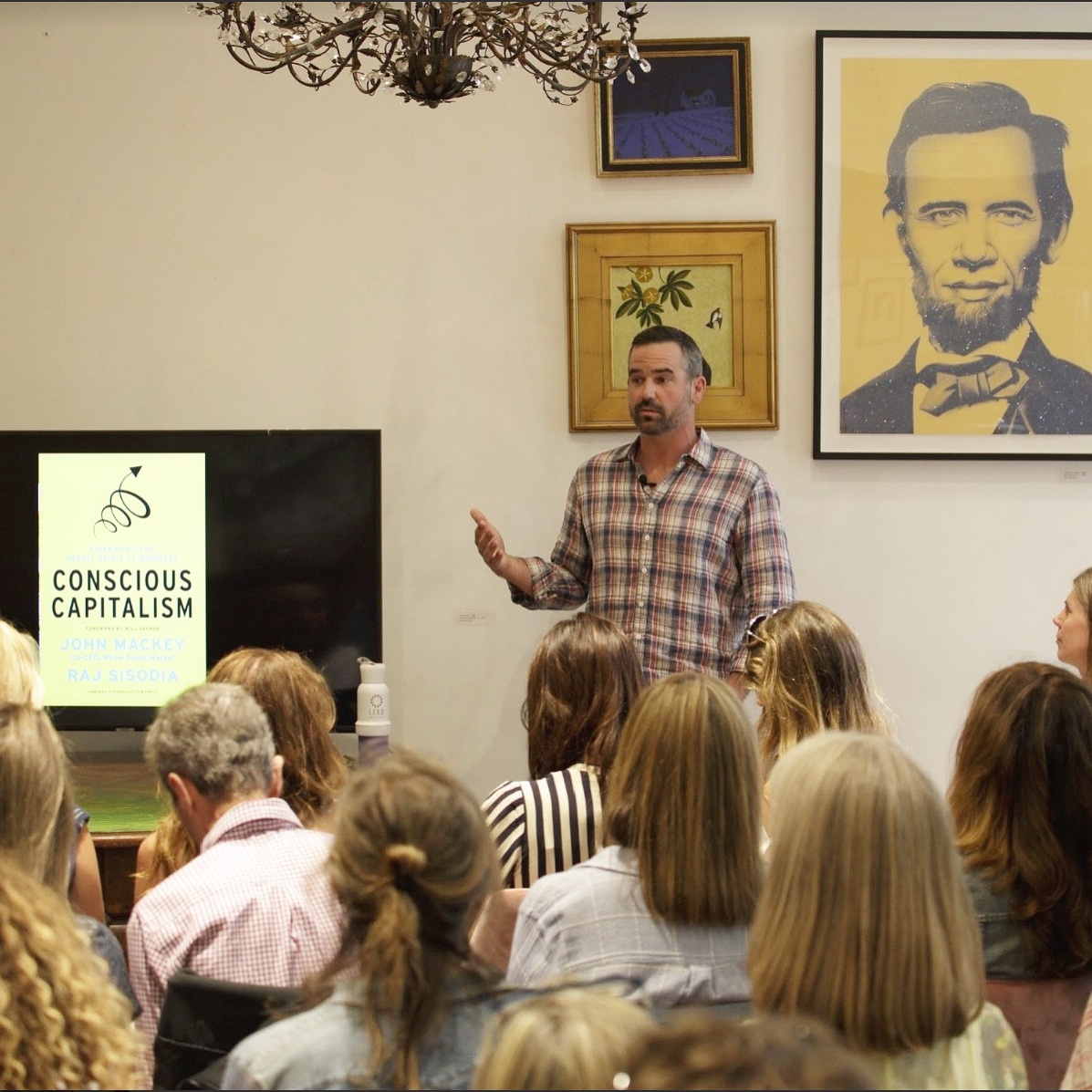 Leadership Workshop with Tyler Moebius
Coaching + Q/A with Raj Sisodia + Dr. Neha Sangwan
Forest Bathing + Integration with Nicole
Gina Murdock
Gina Murdock is a writer, yoga & meditation teacher, & community organizer. She is founder of the Aspen Yoga Society, The Aspen City of Wellbeing & Lead with Love, a non-profit organization dedicated to shifting culture from fear to love through events, retreats and programming focused on leadership, wellbeing, service and connection.
Gina and her husband Jerry created and support the Mind, Body, Spirit Series at The Aspen Institute hosting speakers and events to raise consciousness. Murdock has a Master's Degree in Spiritual Psychology from the University of Santa Monica with a special emphasis on consciousness, health, and healing. Gina is a certified Chopra yoga and meditation teacher as well as a certified Bikram and Vinyasa Flow yoga teacher and retreat guide. Gina is also a published author and public speaker and sits on the board of the Aspen Center for Environmental Studies.
Tyler Moebius
Tyler, CEO of Fast G8, Chairman of the Board for Coventure, a 5-time entrepreneur and winner of the prestigious Ernst & Young Entrepreneur of the Year Award. His last start-up grew to a 700 person company with 28 offices in 12 countries.

His passion lies in designing and developing innovative technology platforms that connect conscious brands with conscious consumers.

When his head is not in the digital ethos- his heart is grounded with his partner Oriana and 4 children on their small biodynamic farm at the base of Sopris. Where, with the help of the Waldorf community, they are raising conscious global leaders, who wonder at the beauty and stand guard over truth.
Raj Sisodia
A founding member of the Conscious Capitalism movement, Raj Sisodia is FW Olin Distinguished Professor of Global Business and Whole Foods Market Research Scholar in Conscious Capitalism at Babson College. He is also the Co-Founder and Chairman Emeritus of Conscious Capitalism Inc.
Raj earned a Ph.D. in Marketing and Business Policy from Columbia University and was the Director of Executive Programs and Associate Professor of Marketing at George Mason University in Fairfax, Virginia. From 1985 to 1988, he was Assistant Professor of Marketing at Boston University.

He also spent 15 years at Bentley University as Trustee Professor of Marketing, Department Chair and founder/director of the Center for Marketing Technology. Raj is a trustee of Conscious Capitalism Inc. and a member of the board of directors of The Container Store. He has consulted with and taught executive programs for numerous companies, including AT&T, Nokia, LG, DPDHL, POSCO, Kraft Foods, Whole Foods Market, Tata, Siemens, Sprint, Volvo, IBM, Walmart, Rabobank, McDonalds and Southern California Edison. Raj is an American citizen residing in Lexington, Massachusetts.
Dr. Neha Sangwan
Neha Sangwan, M.D., is an internal medicine physician, executive coach, corporate culture consultant, TEDx speaker and author who combines the science of medicine with the art of communication to address the root causes of stress and illness. Her book is TalkRx: Five Steps to Honest Conversations that Create Connection, Health and Happiness. You can learn more at doctorneha.com.
Nicole Lindstrom
Nicole Lindstrom is a yoga and meditation teacher who teaches all over the world. She is the co-author of "WANDERLUST : A Modern Yogi's Guide To Becoming Your Best Self" and current Program Director of Lead with Love, in Aspen, Colorado.
Starting with guided hikes and meditations at Wanderlust, to leading global retreats with Yogascapes, Nicole now designs and teaches Lead with Love Wellbeing Programs and Retreats. Lead with Love's Wellbeing Programs are the heart of the organization's "Service" pillar and are largely subsidized. These programs serve the underserved workers of Aspen including road and vehicle maintenance workers, jail inmates, the Aspen Fire and Police Departments and the elderly.
Before Lead With Love, Nicole worked with Wanderlust for 6 years, most notably as the Speakeasy Lecture Series Producer.
Currently a year one student of University of Santa Monica's Soul-Centered Living program, Nicole is expanding into the realm of spiritual psychology to further her holistic approach to teaching.
The Catto Center at Toklat was once the family home of one of Aspen Center for Environmental Studies' most influential founder, Stuart Mace, and holds great meaning for the Aspen community. Toklat, an Inuit word meaning "headwaters," was built by Stuart and and his wife Isabel in 1948 as a wilderness lodge and family home. The early dog sledding trips, the pristine sub-alpine environment, and tall tales told around the hearth in the evening drew both locals and visitors from all over the world.

In 2004, with the help of long-time ACES supporters Jessica Hobby Catto and her husband Henry, ACES bought Toklat to preserve Stuart's legacy and this community touchstone. The Catto Center at Toklat is located near the headwaters of Castle Creek in a dramatic landscape and serves as a gathering place for cultural and ecological discourse.
Interested in Learning More?